Written by Walter Sobchak/Disclosure Tv
Meth lab explodes on top of volcano; Injuring two….Is what a future headline might read. As the number of meth labs increase throughout counties all over south America. It hasn't happened yet but there's a future for it.
The resourcefulness of drug dealers and cartels knows, no bounds. Recently an uptick in the cartels creating miniature submarines are haunting the U.S Coast Guard. Thats right. They are building submarines to traffic drugs into the U.S from Mexico by way of the Pacific ocean. The U.S Coast Guard has deemed these vessels "Narco Subs".
The Coast guard has specifically seen an increase in meth distribution coming from the Mexican cartels. The last seizure being on January 11, 2021 of 331 pounds of methamphetamine. to their remote locations. Mother natures kitchen may entice the stupidity of drug dealers and cartels because of its remote locations and ability to have a free 24 hour natural stove.
In 2020 a Canadian man was found floating unconscious in the Detroit River while hauling 265 pounds of marijuana. An agent for the DHS alleged in an affidavit that "When the man was stopped by deputies " he was scouting for a spot to smuggle the $97,060 into Canada" and that "Mousseau stated that he provides GPS coordinates to an individual in Canada, who traverses the Detroit river using a submersible watercraft,"
In 2019 Federal drug enforcement agents and local officials took a trip to Sinaloa, Mexico, to see an immense cartel methamphetamine lab firsthand. The remote location was in the jungle. Far away from prying eyes. When agents got there they found that the drugs were destined for Main in the United states. They also found out that the lab was "cooking" over 7 tons of meth in 3 days.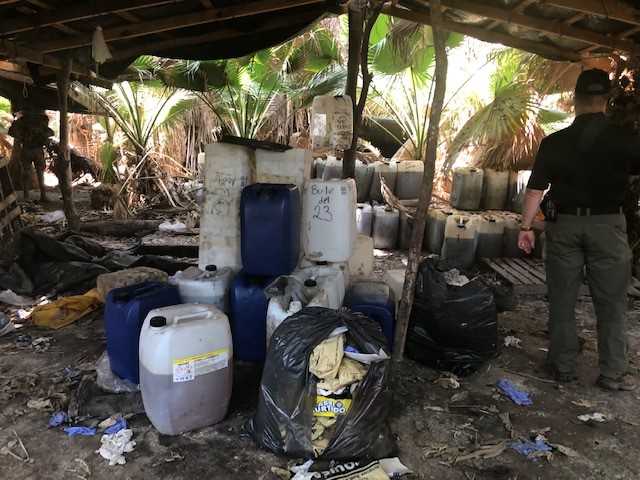 Jon DeLena, associate special agent in charge for the New England section of the DEA, said. "I've never seen anything like it, "We're talking about a laboratory in the middle of the jungle, that was producing 7 tons of crystal methamphetamine every 3 days." DeLena said "Meth is really starting to alarm everybody because of the spikes we are starting to see," "We know that the market is really starting to get flooded with it."
As cartels push further out into remote areas. Its likely they will find places where natural resources are readily available. To cut down the amount of time and trips they make bringing supplies in and hauling methamphetamine out. Such as natural water ways and natural heating sources such as volcanos. When your out in the jungle that far its hard to pack those types of man made resources out that far or keep going back on supply runs. Which increases the risk of being seen by another cartel or being caught by police. So having a volcano as a 24 hour heat source would be something the cartels will likely attempt in the future. And we know drug dealers are stupid. Creative and resourceful, but stupid.
So my headline isn't sounding so dumb now is it? So is it possible that my headline could be a real future event? Only time will tell.